Head of Growth
Head of Growth position in fast growing virtual food brand start-up, who recently raised +15 million DKK
We usually respond within three days
The online food delivery space has seen enormous growth in recent years, but now demands new solutions. Ghost kitchens & virtual food brands are the next big thing in food delivery - expecting to be worth $365 bn in 2030 - as they are able to devise solutions to challenges that cannot be solved by traditional restaurants.
At Hubb, our ambition is to build the world's greatest destination for take-away. We build ghost kitchens & create daring take-away brands, designed for delivery. We put multiple brands under one roof, enabling customers to order from several types of cuisines and have it delivered in the same order.
Head of Growth to join a rapidly growing start-up
Since we launched Hubb a year ago, we've been trusted by +50.000 customers with orders in our first kitchen in Nordvest, Copenhagen, becoming the 8th most popular venue on Wolt amongst +2.000 venues.
Now, we've raised more than DKK 15.000.000 in total and gearing up to open our next 4 kitchens within this year, before raising our Series A early next year. This is why we're looking for our next core team partner - our Head of Growth - who will create, build and develop Hubb's growth initiatives, procedures and team, working closely together with our our CEO and our Creative Director, as we scale nationally and internationally.
As Head of Growth, you will be directing the marketing team alongside our Creative Director. You will own the responsibility for managing our performance marketing, constantly planning, testing, and measuring the effects of our key marketing initiatives, as well as driving analysis behind decision making.
Key projects in your first year include:
(i) devising, and executing on, our strategy for driving traffic towards our own app - how will we drive traffic and acquire customers through our own channels (B2C & B2B)? 
(ii) establishing the best sets of creatives, copywriting, segments and targets for our performance marketing (FB, Instagram, Google Ads) through constant, consistent and well-executed testing

(iii) developing our data dashboards to seamlessly track the effect & results of our core initiatives, being able to relay these to the team 

(iv) building our growth playbook for when launching new locations 
In a fast-growth environment, the business needs to evolve fast, so you'll be proactively driving change & improvements as we scale.
We're a match made in heaven, if you:
Feel like now is the time to unleash your potential and build something great
Are willing to invest & immerse yourself in what will hopefully become a passion
Have a marketing or consultancy background with at least 3 years of experience within digital marketing / growth hacking / project management / e-commerce
You're a doer - you like getting your hands dirty and executing quickly - but still retaining focus and having the overview of where you're headed
You love picking, tracking and reading metrics constantly. Numbers don't lie.
Have sucessfully started & built a growth channel from scratch before
Have high proficiency in using Mixpanel, Onesignal & Google Analytics or similar programs
Have the ability to tell a concise story using numbers, strong written communication skills, and a high level of attention to detail is vital;
Enjoy a great sense of humor and teamwork at your workplace
What Hubb wants to offer you:

The chance to join one of the fastest-growing Danish food startups backed by top investors
A competitive salary & equity possibilities
An opportunity to put all your skills to work in a field that you will own, build & develop within Hubb
Opportunity to unleash your potential and develop yourself within a dynamic environment surrounded by young talents, experienced professionals as well as senior investors
Flexible hybrid work environment
We also operate a referral scheme so if you know any talented individuals who would be interested in joining an exciting and fast-paced business, please let us know
Sounds interesting? Reach out. I would love to hear from you.
Best,
Alex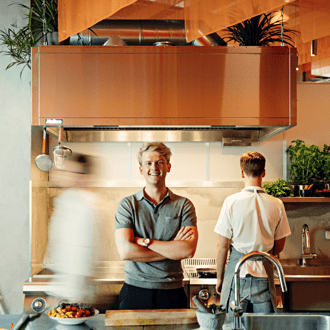 What can we offer you?
Competitive salary 💰

We pay above market average

Flexible working hours ⏰

Better & more flexible working hours than at most restaurants

Progress & development 📚

We're growing quickly - as a business, as a team, but also individually. So will you.

Young & driven team ❤️

Average age at Hubb is 29. We run fast and want to achieve big things together


Atmosphere 🎼

No matter how busy we are, we'll make sure to run the best playlists in the kitchen as well as the office

Retreats 🎪

We like having fun, which is why we make them happen often with activities & Hubb championships :)
Our culture
We strive to create a place for people who want to improve, be proud of their work, and have fun while doing it.
So, we chase extremely high standards - but with humor, and with compassion. We are committed to creating conditions that provide everyone with an equal opportunity to succeed & be happy at work.

About Hubb Kitchens
Founded in 2021, by entrepreneurs with backgrounds in food delivery, creative agencies, Michelin restaurants and tech. 6 concepts developed and 3 Hubbs in Copenhagen by summer.

We're growing quickly. In 2022, we'll be opening 5 additional Hubbs. To do this, we need great people onboard of the team. We hope you're one of them.
Head of Growth
Head of Growth position in fast growing virtual food brand start-up, who recently raised +15 million DKK
Loading application form
Already working at Hubb Kitchens?
Let's recruit together and find your next colleague.